The most original dance -- Nuo dance
---
The traditional culture of Liukeng is extremely rich, including material culture and non-material culture. We actively develop and utilize the active traditional cultural resources of the ancient village, fully demonstrate its long history, unique locality, splendid diversity, smart fun, cheerful entertainment, enlightenment knowledge and auspicious aesthetics, so that Every traveler has fun, sees fresh, leaves memories and brings back luck.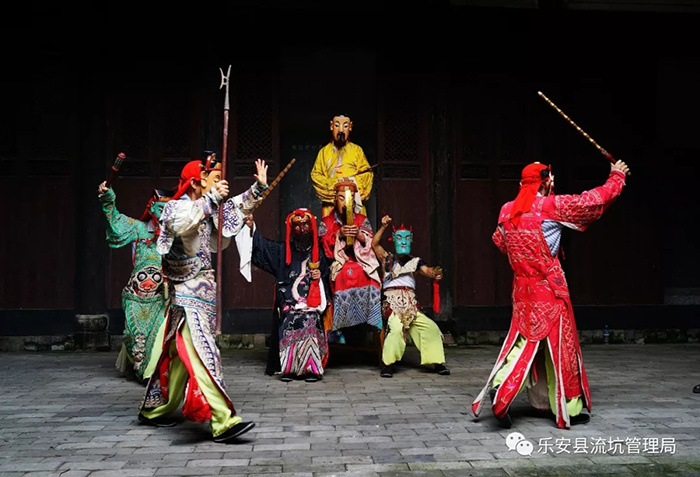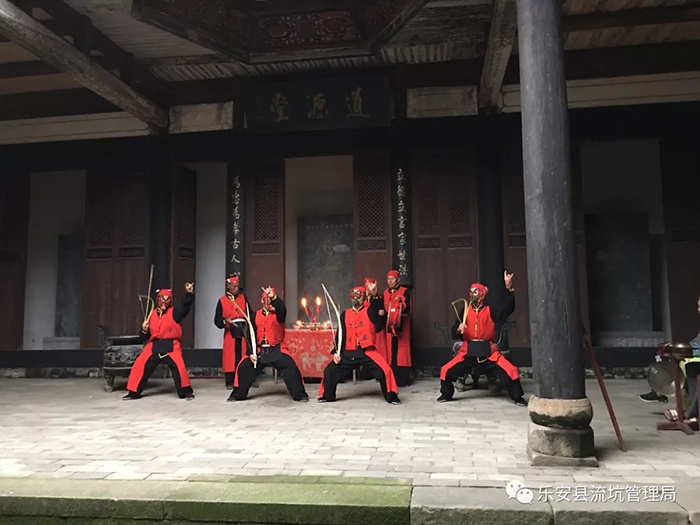 Liukeng Nuo dance, according to word of mouth, originated from Dong Dunyi, the sixth ancestor of the Dong family in Liukeng. According to legend, in the early years of Emperor Huizong of the Northern Song Dynasty, Dong Dunyi, who was the censor of the imperial censor, was sent to Khitan to negotiate peace and was forced to stay in Khitan for many years. When he returned to the dynasty, he brought the local Nuo dancing ceremony back to the capital. Soon, Dunyi was slandered by a traitorous official, and he was dismissed from office and returned to his hometown. Liukeng Nuo dance has been handed down to this day, and is regarded by the villagers as an activity to exorcise evil spirits and pray for good fortune and keep fit.
Liukeng Nuo Dance pays attention to gorgeous costumes, dressed like ancient costumes and opera costumes. The Liukeng Nuo dance masks are all carved from camphor wood and painted with colored oil. Costumes and props Wear different costumes and hold various props according to the characters you play. There are more than 20 different characters in total. The style of Liukeng Nuo dance is simple and rough, full of interest. The content is divided into "literary field" and "martial arts field", including "Zhong Kui sweeping the stage", "Blessing from Heavenly Officials", "Installing incense in the Temple", "Scholar and the Seven Fairies" and other repertoires .
At present, a Nuo dance troupe has been formed in Liukeng Scenic Area, with 15 actors. They perform regular Nuo dance performances on the ancient stage every day to show visitors this long-standing folk art.
In order to implement the spirit of Premier Li Keqiang's important instructions on accepting complaints about various issues and strengthening supervision over government services, the General Office of the State Council has opened the "National Government Service Complaints and Suggestions" mini-program from September 20 to widely receive complaints from all walks of life about government services. questions and suggestions.
In order to implement the "Guiding Opinions of the National Development and Reform Commission on Improving the Ticket Price Formation Mechanism for State-owned Scenic Spots and Lowering the Ticket Prices of Key State-owned Scenic Spots", the document No. 951 [2018] of the Development and Reform Commission, from September 30, 2018, Liukeng Scenic Spot Tickets The price has been reduced, from the original ticket price of 60 yuan/person to 50 yuan/person.
On August 14th, the Jiangxi Provincial Department of Education officially announced the "Evaluation Results of the First Batch of Research and Practice Education Bases for Primary and Secondary School Students in Jiangxi Province" to name 64 units as the first batch of "Jiangxi Province Primary and Secondary School Students Research and Practice Education Bases", and Liukeng Ancient Village in Le'an was selected. .