Zhuangyuan Building
---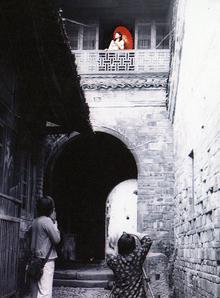 Zhuangyuan Building is located on the west side of Liukeng Village, facing east from west to east. It was the entrance to the village from the land road in ancient times. It was surrounded by Wuwang Temple and Wuguifang (now a site) in ancient times, and the cultural atmosphere was very strong.
The Zhuangyuan Building was built in the first year of Longxing of Xiaozong in the Southern Song Dynasty (1163), in memory of Dong Deyuan, the champion of Enke in the eighteenth year of Shaoxing in the Southern Song Dynasty (1148). old system. The existing Zhuangyuan Building is a two-story pavilion-style building with a bucket-type beam frame, a hard top, and a butterfly tile roof. The three rooms are 10.70 meters wide and 11.85 meters high. The middle of the ground floor is a passageway paved with strips of stone. When it was first built, the ground floor was open without any partitions. When it was rebuilt in the Qing Dynasty, for ease of use, the two intervals were separated into shops. Surrounded by corridors on the second floor, in the middle is the Temple of God, with a sanctuary inside, and the tablets of five famous ministers including Dong Deyuan on it.
Liukeng covers an area of 3.61 square kilometers, surrounded by green mountains and surrounded by rivers on three sides. It was built during the Southern Tang Dynasty of the Five Dynasties (937-943 AD).
---
Copyright©2022Lean Liukeng administration
online service
WhatsAPP